BROEN FULL FLOW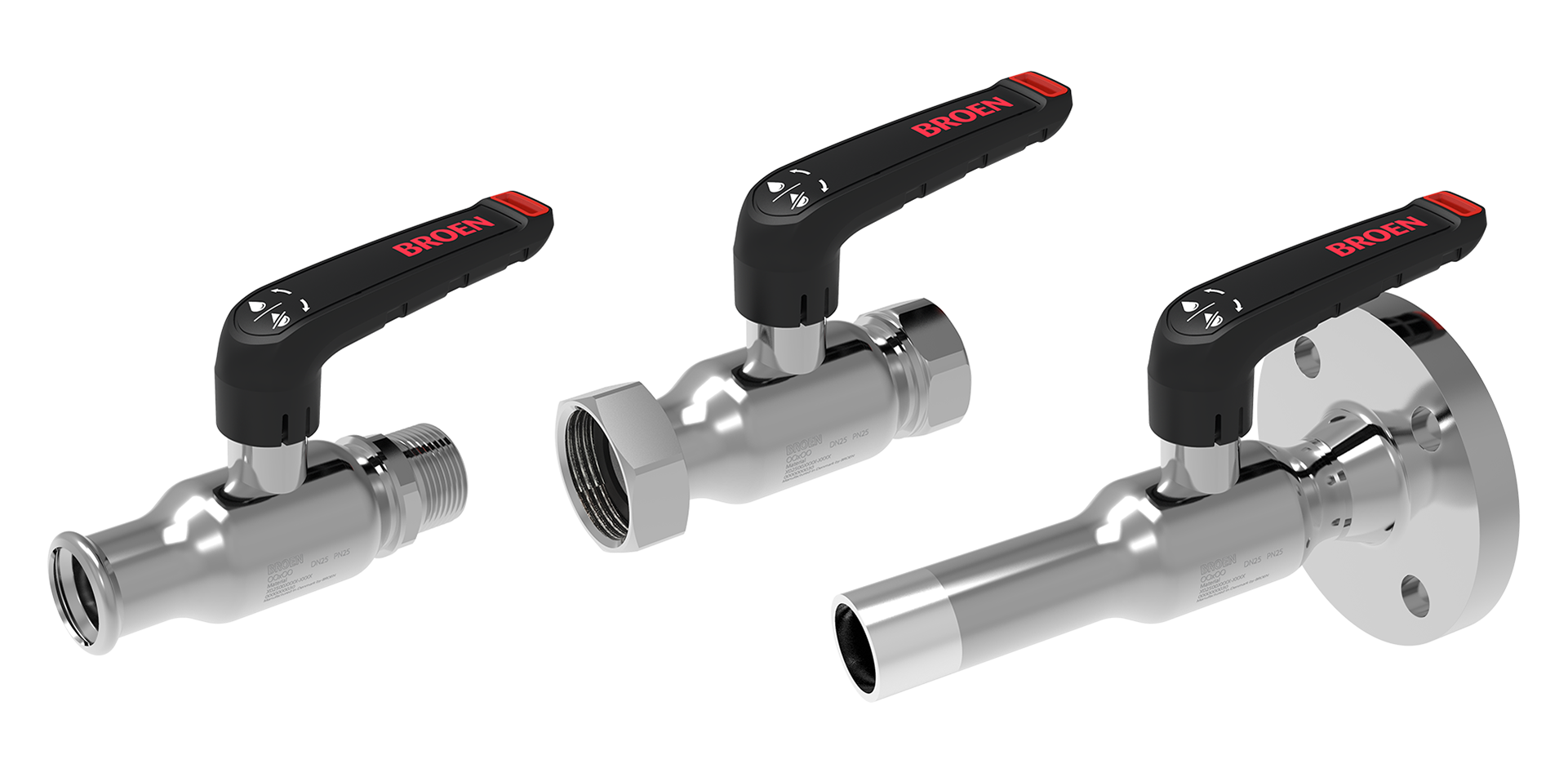 Next generation valve technology 
BROEN has developed a new unique full flow valve DN10-50 that matches the requirements for reliability, efficiency and quality in modern construction.
All Systems – One Technology
Compact Full Flow design
Connection Flexibility
Unique valve identification
Danish innovation - Produced in Denmark



The new BROEN FULL FLOW valve is the most flexible model on the market, and it provides problem-free use with both new and existing systems, as the material standards and technologies are identical.

The BROEN FULL FLOW valve offers many more possibilities for complete solutions with uniform connection technology and material characteristics.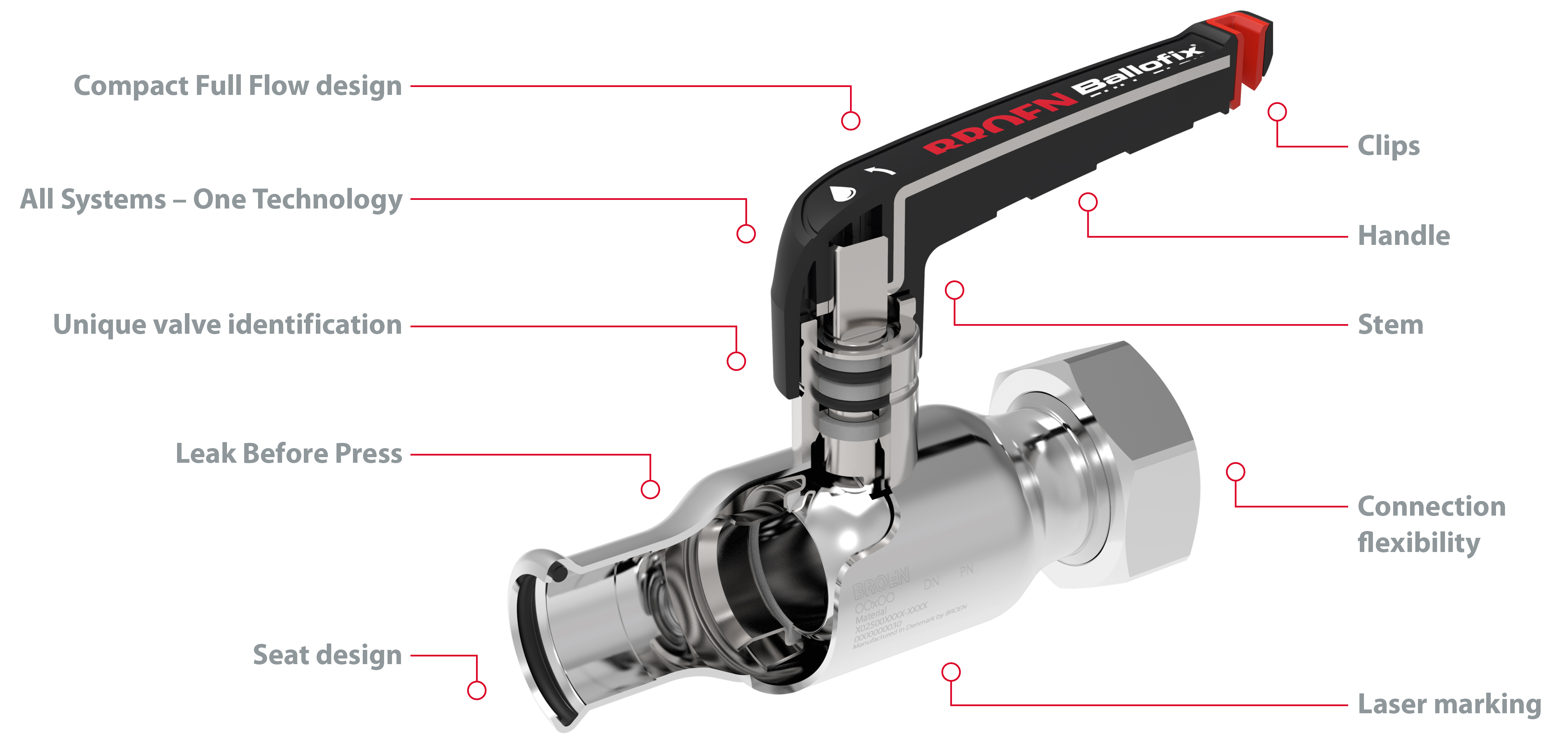 Compact Full Flow design
The compact valve housing provides the market's best insulating option, which matches the requirements for modern HVAC systems. In cases where the valve is not insulated, the flawless full flow design may be of use.

All Systems – One Technology
Using the same material throughout the entire installation provides a simpler and more secure system, as a combination of different materials is avoided which could affect one another and lead to corrosion.

Unique valve identification
All valves are individually marked with a unique valve number. Information about the valve can be found on its side. We also test our valves before they leave the factory in Denmark.

Leak before press
All press valves are leak tested using "Leak Before Press", which minimises the risk of leaks.

Seat design
The patented spring supported seat design ensures optimal tightness, smooth operation and long lifetime.

Clips
Replaceable clips in the handle ensure easy identification of e.g. cold and hot water or flow and return flow – and the clip can also be fitted with a label.

Handle
The ergonomic handle is specially designed for easy activation. The handle is made from fibreglass-reinforced nylon cast around a metal reinforcement and it can be fitted in both directions without the use of tools.

Stem
All valves are available with a short or long stem. The long version is a fixed, integrated part of the valve, which ensures proper insulation around the stem.

Laser marking
BROEN FULL FLOW valves are clearly marked by laser to provide information about size, material and tools. Furthermore, a colour code indicates the different materials: green is stainless steel, while red is galvanized steel.

Danish Innovation - produced in Denmark
BROEN FULL FLOW is developed and produced in Denmark in an Industry 4.0 production environment where automation with robot technology and collection of value adding production data are used for ongoing optimization.
 

BROEN FULL FLOW - overview

 DN10-50     
 PN16
 Temperature between -35°C - +135°C     
 Press, thread or nut
Design your own ball valve





Try the configurator and design your own ball valve with the connection and control option you need. Access the tool below.


Applications:

Drinking water
With the BROEN FULL FLOW valve, you can be confident that all applicable standards for drinking and potable water systems are met. All system components are made of stainless steel and therefore corrosion resistant – even when they are exposed to demineralized or distilled water. BROEN FULL FLOW valves in stainless steel thus eliminate the risk of mixture with other material types from different components.

Treated water
BROEN FULL FLOW in stainless steel is particularly well suited for treated water where you have demanding material requirements. All parts in connection with the water incl. the ball are produced in acid-proof stainless steel (AISI316).

Heating
BROEN FULL FLOW is the best solution for heating systems. Before they leave the factory, the compact fittings are subjected to stringent quality assurance and leakage testing throughout the entire production process. Together with laser welding technology, the energy-optimized flow design gives all fittings a very low internal flow resistance.

Cooling
BROEN FULL FLOW is the valve of tomorrow for cooling installations, and it provides the same advantages as those for heating installations: It is the optimal energy-efficient solution with the lowest possible flow resistance. Furthermore, you can adapt the choice of material to the individual installation. BROEN FULL FLOW valves with increased stem length also provide proper, diffusion-proof insulation for the entire installation.

Air pressure
The BROEN FULL FLOW valve can be used for a number of air pressure installations. Depending on the water and oil content you can either use the galvanized version or the stainless steel valve to meet bigger demands.