BROEN BALLOFIX®
With the BROEN BALLOFIX® ball valve you get the best quality in the market, great functionality and Danish design. The original BROEN BALLOFIX® was developed in the 1960s and now, more than 120 million BROEN BALLOFIX® valves have been fitted all over the world.

Our product range is constantly being developed so that it suits the requirements in all types of installations in both new buildings and for refurbishment.

The BROEN BALLOFIX® ball valve provides you with the following  advantages:


Wide range in functionality and sizes
Unique design with long life securing future functionality
Easy fitting with handle (internal hexagon or fixed with a screw)
Can be fitted independently of the direction of flow
Minimal risc of corrosion
Internal stop
Individual test (100%) according to comprehensive quality procedure in production




The BROEN BALLOFIX® ball valve ensures low maintenance costs and it allows you to change the components without having to close the entire system.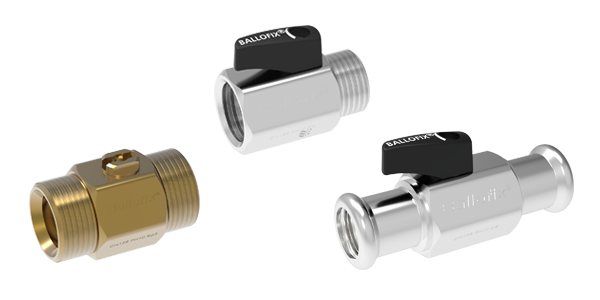 Customized OEM solutions

Based on the original and high quality BROEN BALLOFIX® ball valve we offer a unique line of customized OEM solutions tailored to fit your needs.