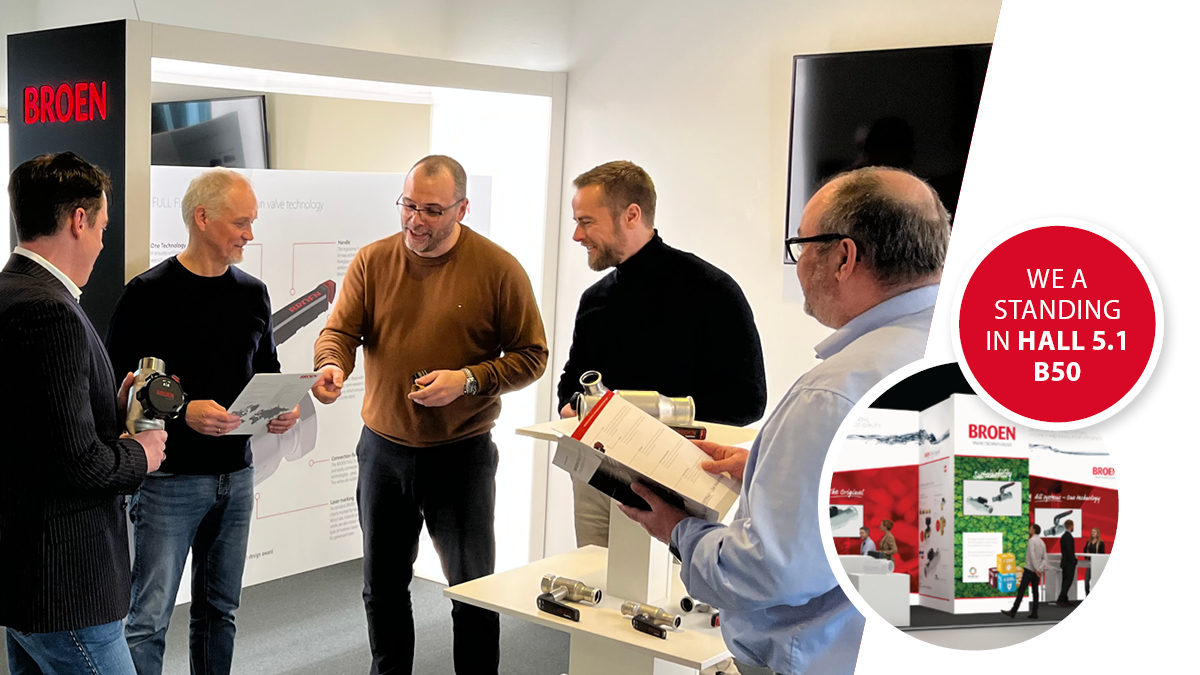 ISH fair 2023
27 February 2023
From 13 - 17 March you can meet BROEN at ISH 2023 – the world's leading trade fair for HVAC + Water takes place every two years in Frankfurt am Main. This year's ISH will be launching both physically and digitally.
ISH focuses on modern bathroom design, sustainable heating and air-conditioning technology as well as intelligent home systems. The world's largest exhibition space for the HVAC sector showcases an array of practical solutions for the most important issues of our time: achievement of climate protection targets, conservation of resources through the use of renewable energies, increasing digitalization and smart technologies.
Our key products at the fair will be our high quality BROEN FULL FLOW & BROEN BALLOFIX® valve that matches the requirements for reliability, efficiency and quality in modern construction.

We look forward meeting you at the fair for at a talk about the development of our unique valves focusing on great savings in materials, transportation and production time.
Meet our team members from BROEN BALLOFIX® and BROEN FULL FLOW in hall 5.1 B50.
Practical information about the ISH fair 2023:
When: From 13 - 17 March
Location: Hall 5.1 B50.
Opening hours:
13. - 16.3.2023 (Monday to Thursday): 9 a.m. to 6 p.m.
17.3.2023 (Friday): 9 a.m. to 5 p.m.
Event program for ISH: Event Calendar | ISH Programme (messefrankfurt.com)