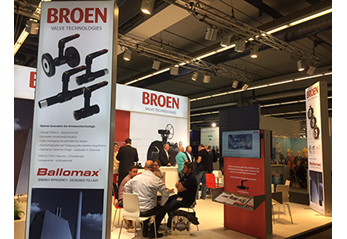 EN EFF, Frankfurt 2018
25 April 2018
The 23.rd international trade fair and Congress for heating and cooling kicked off in Frankfurt a.M. last week. The trade fair is organized by AGFW – the German association for district heating – and takes place every second year and is a great platform to promote products and offerings within district heating and cooling. Again this time many visitors spent 3 days in April - from 17th to 19th - packed with all the greatest news from the industry.
BROEN had lined up a whole range of great news. BROEN Ballomax® – the industry standard and well proven range of district heating valves - is now updated with even better performing valves: New products such as the BROEN Ballomax® Full flow DN10-50 and the upcoming BROEN Ballomax® DN200-500 as well as Trunnion mounted versions were exposed to the industry.
BROEN's booth was full of interested industry stakeholders, who were looking to hear more about the products. "From all the pre-booked meetings we recorded a great interest for our new products", Sales Director Jesper Boysen said and continued "It is going to be very interesting to follow these brand new and highly competitive products".
Product Manager Per Holst Christensen continued: "It was great to see, how well our new products performed against the competition and feel how much customers appreciate our developments. BROEN has been working for many years on further improving, what is already the industry standard and we will continue our research in this industry, so that customers can trust, that we bring them valuable and efficient valve technology".