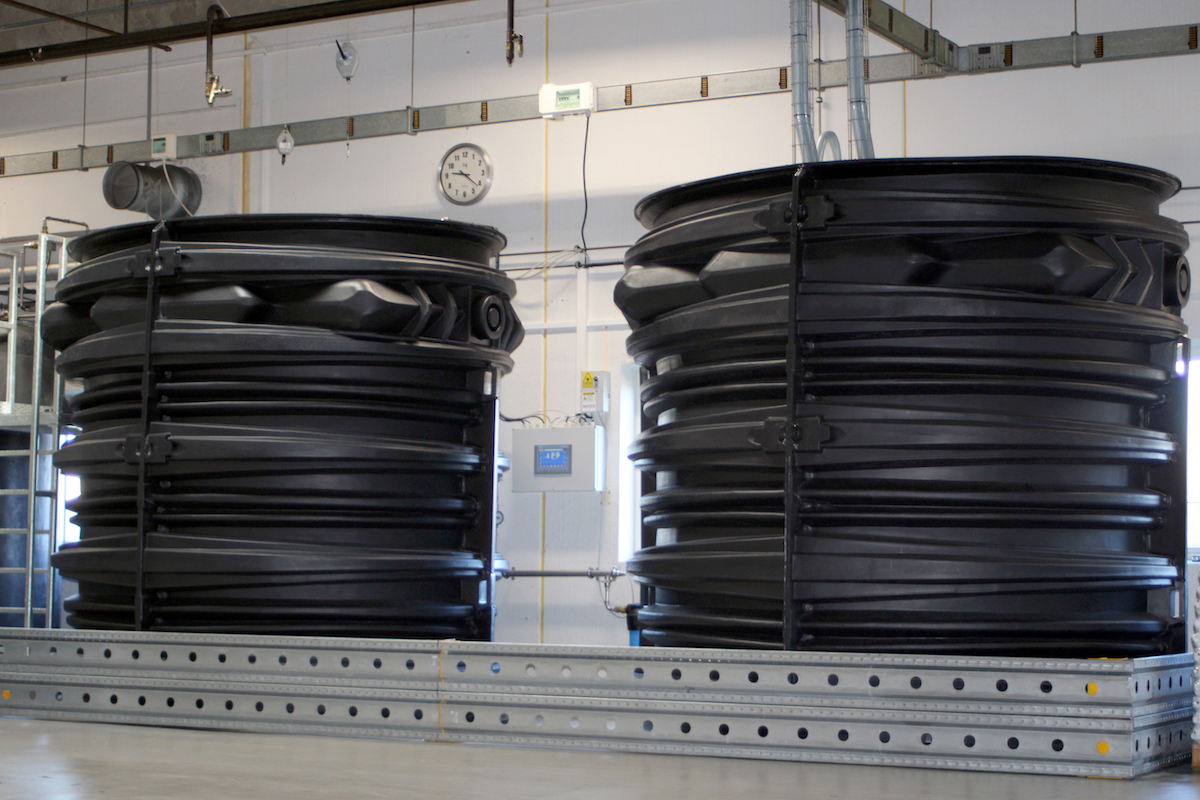 Harvesting of rainwater
19 May 2022
Harvesting of rainwater saves about 800,000 litres of drinking water per year
Experiments with harvesting and filtration of rainwater, to minimize the consumption of drinking water in our production, have so far resulted in savings of approx. 800,000 litres of drinking water per year.

In the production at BROEN, we have always used demineralized water produced by using a reverse osmosis system. The system produces approx. 600 litres of demineralized water from 1,000 litres of supply and drinking water.

Wanting a more sustainable production e.g. by minimizing the consumption of drinking water, we started an experiment a few years ago with rainwater harvesting. In the beginning, the experiment was completely impractical with a tank under a downpipe, which was fitted with a filter bag. The method of rainwater harvesting was difficult, but the results were good.

Establishment of facilities for storage of 30,000 litres of water

Initial tests were concentrated around only one production machine. The great results encouraged us to expand the experiment, and we joined forces with our neighbour, WaterCare. WaterCare is specialist in harvesting and filtration of rainwater, and the company supplied us with a pump well, which was set up in one of our production halls. The pump well allowed us to harvest and handle more rainwater.
The experiment was extended to several types of machines in the production - and again with great results. We then decided to start harvesting of rainwater from the entire roof on one of BROENs buildings. The system we got installed stores approx. 30,000 litres of water, and the amount of rainwater harvested and recycled in our production has resulted in annual savings of approx. 800,000 litres of drinking water.

Filtration ensures healthy and clean water for our employees
To ensure healthy and clean water in relation to our production employees, the rainwater is filtered through several filters and eventually runs through a UV light filter to sterilize the water. It is absolutely crucial for us that the rainwater is safe and healthy to use for our employees. At the same time, we regularly make bacteria, yeast and fungal test samples to ensure a high quality of water. As we have done before, the water is not diverted to the sewer but is disposed of in an environmentally conscious way, which ensures, if possible, that oil, other particles and water are separated and recycled. (STENA recycling *).

BROEN works with the UN Global Goals focusing on 4 sub-goals including Clean water and sanitation, Affordable and clean energy, Decent work and economic growth as well as Responsible consumption and production.

Read more about BROEN's focus on the UN Global Goals
*STENA Recycling
Stena Recycling is the largest recycling company in the Nordic region to receive, sort, refines and recycle materials and waste ensuring companies a circular and sustainable waste solution. Read more about STENA Recycling.