DGNB certified building
The new production hall in Assens will be our first environmentally certified according to the German DGNB standard. In Denmark, DGNB is managed and certified by the non-profit and member organization Rådet for Bæredygtigt Byggeri.
Rådet for Bæredygtigt Bygger in Denmark makes an overall assessment in terms of environmental, economic and social sustainability.
BROEN is aiming for a DGNB Gold certification, which requires an overall performance index score of 65% across six qualities mentioned below with a minimum performance index of 50% on each qualities; Environmental, economic, social, technical, process and area.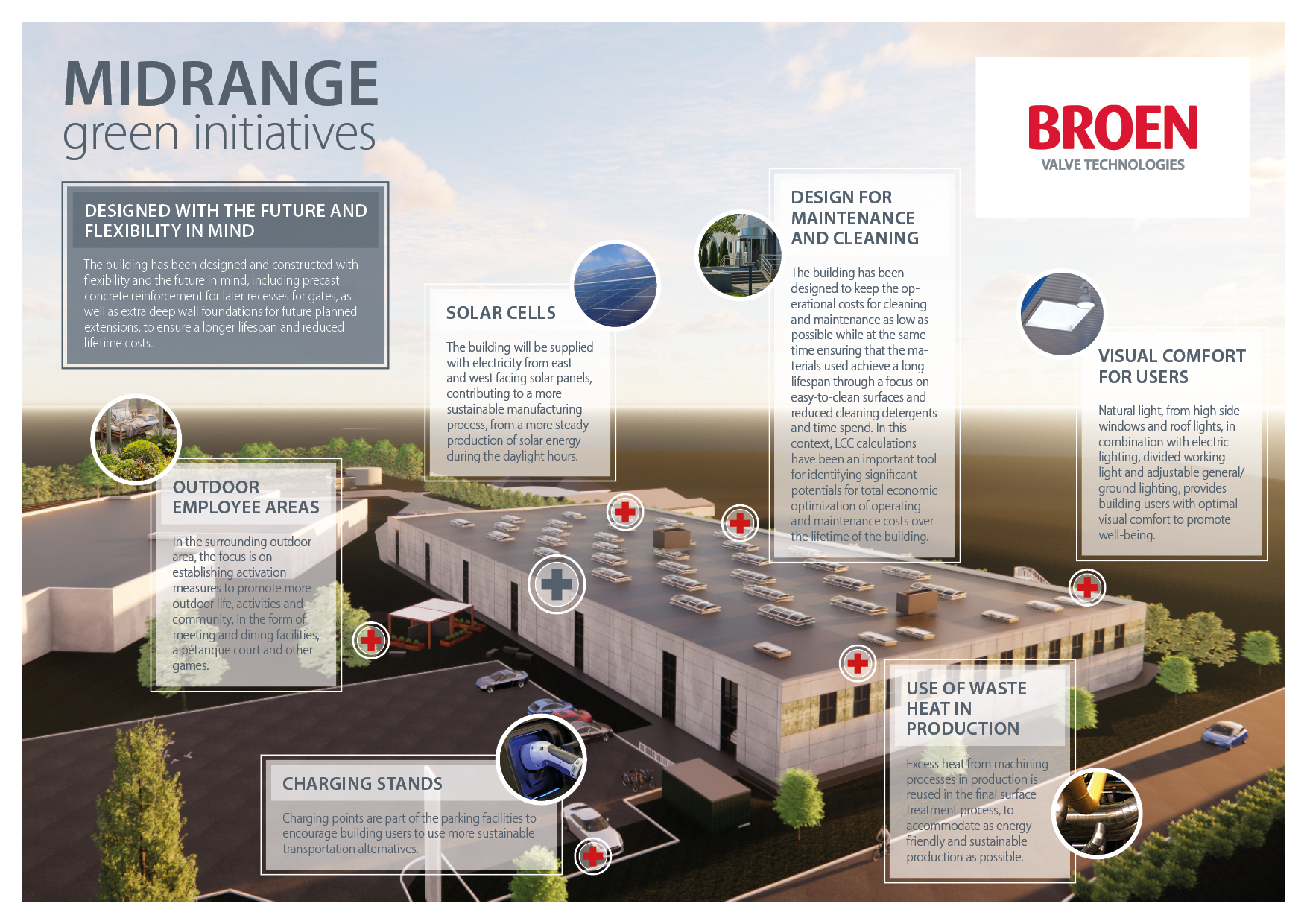 Social quality - visual comfort
The visual comfort of employees is the focus, in terms of daylight in the relevant floor area and workstations, as well as the electrical lighting, which aims to promote good daylight and artificial light in all spaces.
Daylight in the relevant floor area and at fixed workstations is ensured to be 20% and 50% respectively, above the requirement of 300 lux for at least half of the daytime hours, with 35 large roof windows and 15 high window lots.
The electrical lighting is designed to comply with glare limits in accordance with the European Union's Safety and Health at Work Directive. DS/EN 12464-1, where office workplaces are divided with task lighting/ adjustable lighting, with documented reduction of flicker effect through on-site measurements.
Process quality - User communication
Sustainability is a key issue for BROEN and a central point in the DGNB certification, which means an increased focus on guidance for sustainable behavior, including guidelines for minimizing energy and water consumption, as well as optimizing the indoor environment.
Furthermore, users will be informed about the building's current resource consumption in terms of electricity, district heating and water through an information system in busy areas, in order to motivate them to behave in a way that supports the sustainability of the building's operation.